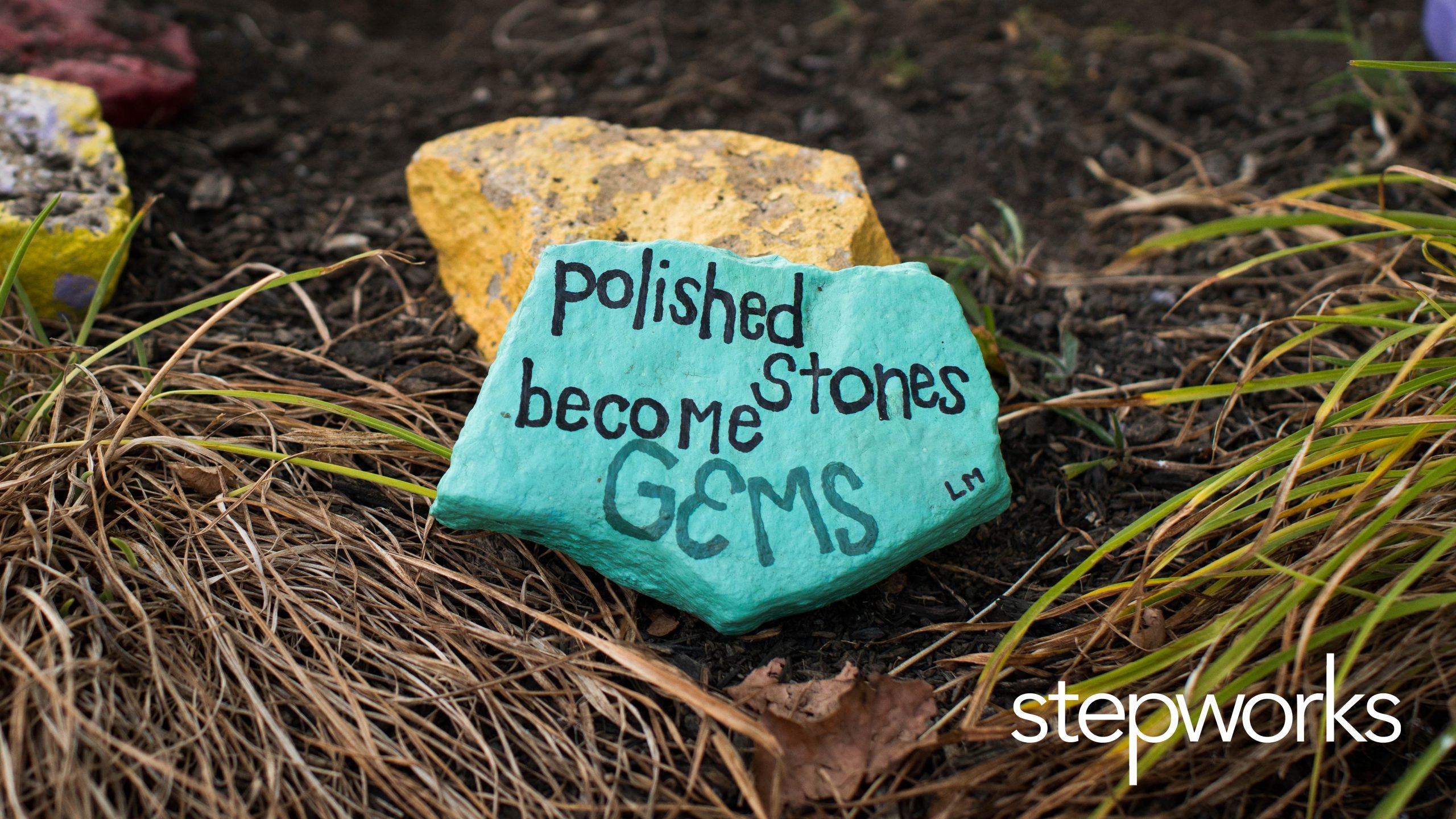 How a Simple Rock Garden Grew Into a Legacy of Hope
I asked her, "Don't you want to see your rock out there? Don't you want to join this group of solidarity?"
Big ones, small ones, a collection of brightly colored reminders inscribed with messages of hope—this is the Stepworks rock garden. As clients inch toward the finish line at Stepworks' Crowne Pointe Drive facility, they get to take part in a unique experience. Each graduating client is invited to paint a rock of their own to leave behind in the facility's special rock garden. While some choose to simply write their names, others leave inspirational quotes or positive reminders to those who are entering or still in the program.
When Stepworks' Crowne Pointe Drive facility was finally taking shape and all the last-minute details were being put in place, it was a load of Carolina river rock that pushed then-Facility Administrator Sherry Coomer to dream of the future.
"As I watched them unload those rocks for our fountain area, I asked myself, would we ever have as many clients as there were rocks? Would we ever be able to reach that many people?"
That day started a mission, envisioned by Coomer, to provide space for graduates of our addiction treatment program to leave their mark on a place that had changed their life. The vision of the Stepworks rock garden was born. Now, with joy and anticipation, clients select their rock and count down the days until they too can leave their mark.
As someone who has long been in the field of addiction treatment, Coomer understands the value in having a tangible reminder of hope for both clients and facility staff.
"I recognize that as staff, we need hope too. It is a challenge to work with our folks every day. It's a challenge to stay hopeful in a sea of often-hopeless people. But we have to maintain that hope for our clients until they can have it for themselves. When I see all our rocks, I see all our graduated clients, and that gives us all a little more hope."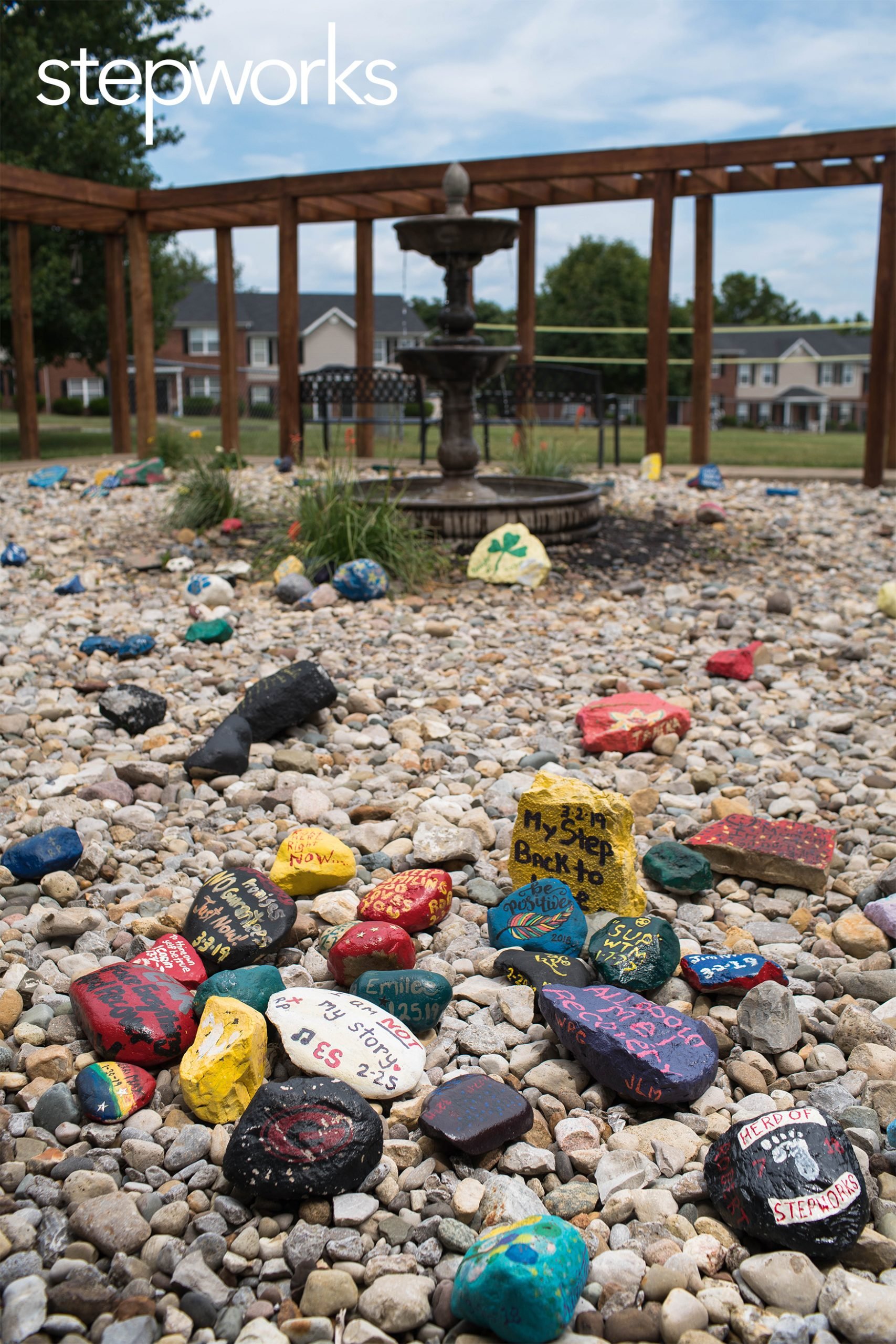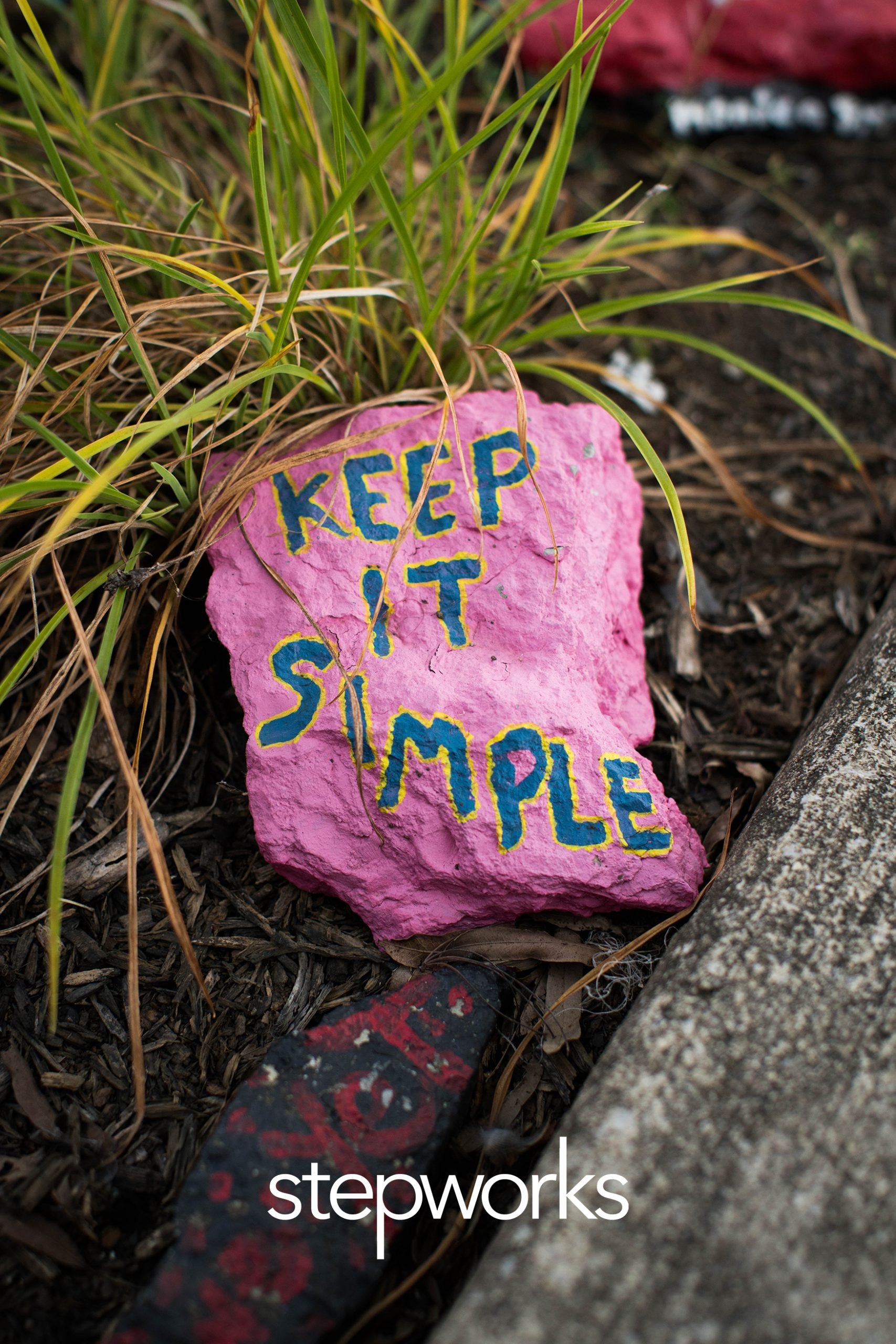 As visitors step onto the campus, they instantly see more than just a treatment facility. Behind each brightly painted rock, there is a person impacted by the disease of addiction. At Stepworks, the goal of this garden is about leaving a legacy. The painted rocks offer a constant reminder to current clients of what is possible if they continue to do the work. Stepworks staff members are beginning to see the influence of this space and the people affected by the work that happens long before a rock is put in its place.
"We always knew this was an important milestone for our clients, but now we are seeing families impacted by the rock garden as well," says Jordan Ingram, the facility administrator at the Crowne Pointe Drive facility. "Children of our clients are bringing in their own painted rocks to join their parents in marking this monumental achievement, this legacy for their family."
With perseverance and a supportive team, overcoming the disease of addiction is possible. The one-of-a-kind rock garden at Stepworks testifies to that with every new inscription.
If you or your family is struggling with addiction, we would love to see you graduate from our program and leave a rock in our garden of hope. To learn more about our programs, call our Access Center team at 800-545-9031.