How important is it to practice hobbies in recovery from addiction? You might be surprised to learn that this is a crucial part of many addiction treatment programs. People who have made the positive life decision to break from habitual drug or alcohol use look forward to a big change in lifestyle. But what will that lifestyle look like? That's a question that can make some people feel nervous about living in recovery. Thinking about practicing old hobbies or developing new ones is a great way to remove some of the uncertainty and fear about living a sober lifestyle. In fact, there are quite a few reasons why having hobbies in recovery can make anyone's lifelong commitment to sobriety more successful and enriching. Let's consider five of those reasons in this post:

Hobbies in recovery help prevent boredom
Who doesn't like having free time? The truth is, too much free time in recovery from addiction can lead to a common relapse trigger: boredom! During active drug or alcohol addiction, substance use might have been one's normal reaction to feelings of boredom or unrest. On top of that, those who have completed a program of residential addiction treatment are exiting from a highly structured lifestyle of planned groups and activities. Transitioning back into a lifestyle in which you have to create your own routines and activities can be tough, and having too much undirected free time is a recipe for falling back into old habits. Taking up new hobbies is a healthy, proactive way to have a solution to boredom that doesn't involve thinking about drug or alcohol use.
Hobbies in recovery help with addictive thinking
Feelings of boredom go hand in hand with many kinds of addictive thinking that can lead to relapse. Being aware of the kinds of thoughts we have is crucial to relapse prevention. Thinking about and working on hobbies helps in this area in two ways: it helps keep our thoughts directed towards definite objects and goals, and it minimizes the amount of time that our minds are left to wander. If left to yourself, without anything to work on, it's easy to fall into the traps of negative thinking, obsessing over things you can't change, feelings of frustration or dissatisfaction, and other kinds of addictive thoughts. Learning a new skill, making arts or crafts, or participating in group activities are all useful tools for learning to keep your thoughts positive and productive.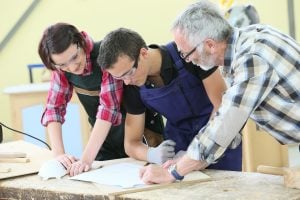 Hobbies in recovery keep your brain's reward system healthy
Another important aspect of recovering from a substance use disorder is promoting a healthy reward system. (Looking for info about addiction and the brain's reward system? See our previous post.) In early recovery, the brain's reward system is usually still damaged from the effects of addiction. That means it's difficult to find a feeling of satisfaction in things that aren't related to addiction. However, the reward system can heal. Actively practicing hobbies while in recovery helps people to reach the goal of rediscovering what it feels like to have a healthy, functioning reward system. It's also important to understand that you might not see immediate results. Being proactive about practicing a craft or sport, for example, can go a long way toward helping your brain begin to provide that feel-good dopamine release that is supposed to accompany fun and productive activities.
Hobbies in recovery help you make new connections
Relapse prevention is largely about avoiding personal triggers for substance use. Triggers are the people, places, or things that are closely connected with one's old habits of using drugs or alcohol. They're called triggers because they "trigger" memories, feelings, and thoughts about using an addictive substance. Naturally, people who seek education and treatment for addiction learn that they need to be able to recognize and avoid their personal triggers. But it's easier said than done, and people triggers can be the hardest to change.
That's where the importance of hobbies in recovery comes in again. There are a lot of hobbies out there that help people connect to new social groups—think community sports leagues, book clubs, volunteering opportunities, or mutual interest groups. Connecting with new people gets us out of our heads and our old friend groups—reducing the chances of isolating behavior or falling back into old patterns of addictive behavior.

Hobbies in recovery help rebuild self-worth
It's extremely common for one's sense of self-worth to have hit a low point during an active addiction or in the early stages of seeking help. Addiction is often a continuing series of negative consequences that can have a debilitating effect on our self-esteem and general mental health. Recovering from addiction means not only acknowledging a brain disorder and mistakes made—it also means relearning how to have a sense of self-worth.
Practicing hobbies is a really effective way to rebuild this vital aspect of one's life. Whether you're finishing reading a book, putting the finishing touches on a craft project, or participating in a team sport, any of these kinds of activities can provide a feeling of accomplishment that makes life in recovery internally satisfying and full.
Opportunities to feel accomplished are like landmarks in a lifelong journey of recovery from addiction. It might be a challenging road, but practicing hobbies and pursuing new activities helps you to not feel lost.